Our school is registered participant of the event. Come and join us!
We start at 9:00 AM October 25 2014.
Location: Fitness Center '5 Star' Moscow, Russia, Aviamotornaya Str., 40
MAP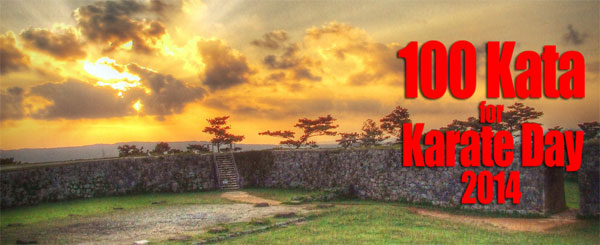 ---------------------------------------------------------
A Challenge Okinawa! and DOJO Bar sponsored event
We are pleased to announce a new martial arts event in Okinawa. A kata demonstration event open to all styles and dojos, this is a celebration of Okinawa martial arts to be held on October 25th – 'Karate Day' in Okinawa.
Inspired by the classic karate phrase – 百練剛- "Train hard 100 times", we propose a 100 kata performance starting at sunrise on Karate Day.
The event will commence at 6am (Japan time) on October 25th 2014. Each participating dojo is asked to select a kata which will be performed for 100 repetitions. There is no time limit for completion of the 100 kata but we expect the event to last around 2 hours (120 mins).
We strongly encourage everyone to take part in this historic event regardless of style, level, age, etc. As they say in Okinawa – 'Ichariba chodei' , "once we meet we are all brothers and sisters".
On Okinawa the event will take place inside the grounds of Zakimi Castle Site, located in Yomitan village. We expect 500 participants from local dojo. Outside Okinawa we invite overseas dojo to join the Okinawa participants in this simultaneous event. They will start at exactly the same time (equivalent of 6am Japan time) and can share video and photos on our Youtube channel afterwards. We aim for 100+ dojos or 5000+ overseas participants who will all have a keen interest in karate and Okinawa.
The event is conceived and produced by James Pankiewicz, owner at The DOJO Bar (Naha, Okinawa) and director of 'Challenge Okinawa! (G.G.)
Location: Zakimi Castle
Site: Yomitan village
Japan local time – 6:00am start (assemble 5:30am)
------------------------------------------------------------------
FAQs
What is the 100 Kata for Karate Day event and where and when will it take place?
It's a kata demonstration featuring 100 repetitions of a chosen kata. In Okinawa its starting at 6am on October 25th 2014 at Zakimi-jo site in Yomitan Village.
Who can take part?
Everyone. The event is open to all participants regardless of dojo, style, location , rank or age. There is no charge to take part.
But I can't get to Okinawa for October 25th so how will I take part?
You can do the challenge from your local dojo or other chosen location too. Just start at the same time as the event in Okinawa (October 25th 6am Japan local time) which may still be Oct 24th if you are in the US for example. The most important thing is that we all take on the challenge at the same time.
I don't think I can complete 100 kata repetitions. Why should I bother? I don't want to fail…
It doesn't matter if you cannot complete 100 repetitions in continuous sequence. Do as much as you can within a reasonable time limit (2 hours for instance). 100 kata repetitions is challenging even for world champions! This event is not about trying to beat others, its about doing your best and enjoying the challenge alongside your karate family around the world. The only way to fail the challenge is to not even take part.
Is there a charge to take part?
No, there is no entry fee for this event. However if you buy an event T-shirt (exclusively available via www.challengeokinawa.com/shop ) then you will help us cover the costs of running this event and have a very cool T-shirt!